College Dayz
Second week of college finished this past week. I have two classes where I will be writing: English Comp, and Public Speaking. My English Comp teacher reminds me of Hagrid from Harry Potter: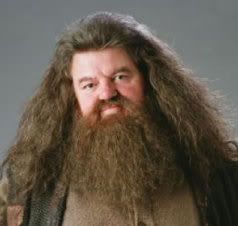 He's a really nice guy. We're learning to read like a writer in his class. In public speaking, we're going to do our first speech in about two weeks. Just 5 minutes, to get us used to doing a speech outline and talking in front of the class. Anyone else wonder why speak has an a, but speech doesn't? I keep trying to type it as speach.
My online history teacher doesn't have his class up yet, until the time for late registration. I have to do some stuff for my online computer class.
So so far, so good. This week I've been feeling like crap. Have a bad cold, I think. Hopefully next week I will feel better.
Labels: College